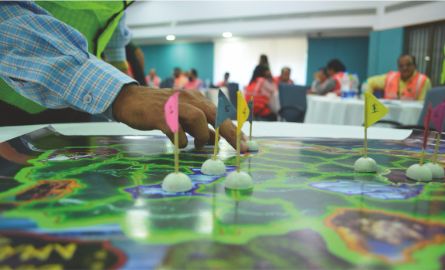 About the simulation
Diamonds of Amazonia is a powerful, engaging and thrilling online business simulation perfectly suited for teams and organizations for instilling desired behaviours of employing Strategic Decision Making, Focus on Productivity, Maximizing Resources, Maximizing Mindset, and Teamwork.
The premise of the game experience is that teams are challenged to mine priceless diamonds from Diamond Valley, but there lies a big obstacle in the way – The Amazonia Rainforest: the world's largest and most dangerous tropical rainforest. The teams will have to meticulously plan their limited resources, skilfully strategize their journey, collaborate and take quick decisions in this stressful and dynamic environment.  

It is a team-learning online business simulation ideal for engaging remote Junior to Senior Management teams in a simulated learning environment in group sizes 20 to 100.